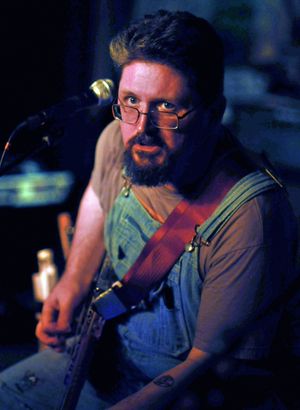 Shane Speal - The King of the Cigar Box Guitar
Cigar box guitars, shovel guitar, diddley bow, vocals, toilet paper gun
York, PA's Shane Speal is the world's foremost master of the cigar box guitar, a primitive stringed instrument cobbled together from discarded wood, guitar strings and and empty box.   Shane Speal is responsible for the modern resurgence of the cigar box guitar, a once forgotten instrument of American blues and roots music.  He has been featured in the LA Times, Guitar World and Premier Guitar magazines and his concert has been featured in the PBS documentary, Songs Inside the Box.
As the leader of the Snake Oil Band, Speal delivers a fiery mix of deep Delta blues, screaming slide guitar leads and grooves so deep, you could dig a ditch with 'em.  Everything is performed on homemade instruments, from a one-string guitar made from a 2x4 plank to his signature cigar box guitars.  "The thrill of playing junk in concert is that anything could self-destruct at any moment," Speal says.
In addition to leading the band, Speal has created the Cigar Box Guitar Museum, published the DIY instrument book Making Poor Man's Guitars (2018 Fox Chapel Publishing) and continues to publish his cigar box guitar history & research on his websites, PoorMansGuitar.com and CigarBoxGuitars.com.  He also posts free cigar box guitar lessons at Youtube.com/ShaneSpeal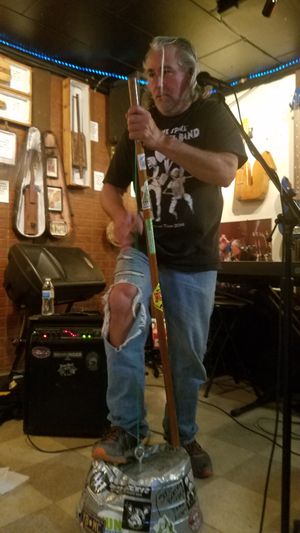 Farmer Jon - The Renaissance Man
The Soul Bucket washtub bass, background vocals, confetti cannons
Founding member of The Snake Oil Band, Farmer Jon might just be the world's greatest washtub bassist.  Unlike other one-string gutbucket players who keep their playing to a simple whump whump whump, Jonny delivers Gospel running bass lines.  This is practically unheard of in jug band traditions.
Jon made his first Soul Bucket from a plastic bucket, WalMart weed whacker string and stick.  It was eventually electrified in the back room of a bar during a show using junk electronics in Shane's gig bag.  It evolved over time, with Farmer Jon and Shane collaborating on an electrified metal version that was detailed in Speal's book, Making Poor Man's Guitars.  His latest version of the instrument uses an actual wooden whiskey barrel that was used to age Liquid Hero Beer at their York PA brewery.  He plugs it into a massive, vintage Peavey bass stack amp.
In addition to providing the funk, Farmer Jon is a working farmer, tending to a farm that has been in his family for several centuries.  The Renaissance Man also brews his own beer, sings in the York Symphony Choir and participates in Revolutionary War reenacting.  He's also an avid bicyclist who has created his own homage to the Tour de France, called "The Tour de Farmer Jon."  In his own Tour, Jon recreates the iconic competition by re-tracing each leg of the race in similar York PA topography.
"Well yeah!"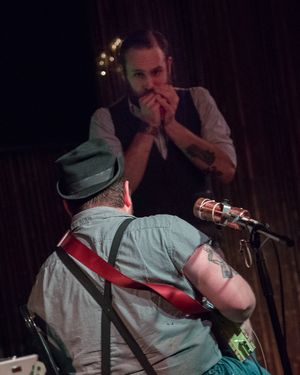 Derick Kemper - The Blacksmith
Stunt harmonica, vocals, confetti cannons
Sure, he's a 2018 Forged in Fire champion, but to Snake Oil Band fans, Derick Kemper is the master blaster of the harmonica.    Known for feeding his harmonicas through a vintage Leslie speaker (making it sound like a Hammond B3 organ), Kemper always goes toe-to-toe with Shane Speal in concert.  The two compete in head chopping duals throughout the show, each trading off leads like two drunken Irishmen in a brawl behind a pub.
Kemper also delivers lead vocals on St. James Infirmary and others, usually singing through a megaphone in New Orleans style.
When Kemper isn't sparring with Speal, he can be found in his coal-fired blacksmith shop, Damselfly Forge, creating fantastic knives, implements of death and period-correct ironwork.  He has been featured on Forged in Fire and the Youtube series, Man At Arms - Reforged.  
For some reason, he also has this thing for Volvos.  The rest of the band just doesn't get it...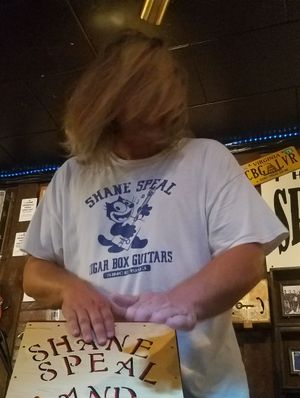 Rick Stepina - The Boom
Grandma's Dresser Drawer, junk drums, vocals
Rick Stepina spent thirty-two minutes in training to be a drummer when he was twelve years old.  After that, he walked away from the drumset to enjoy a diverse career in minor league baseball, boxing and baseball stadium announcing, karaoke, Jamaican exploration and other swindles.  
Years later, he was enlisted by Shane Speal to join the band as the drummer.  Unfortunately (fortunately?), Stepina only had an old drawer from his grandmother's nightstand to bang on, so he placed it on a stand and put a microphone behind it.  It was the perfect sonic blast the band needed.  (Grandma still hasn't forgiven him.)
Stepina is also the songwriter behind many of the Snake Oil Band songs, including "Minivan," "Rehmeyer's Hollow" and others.
As the resident grease monkey in the band, Stepina can be seen on his Harley, in classic cars and on one of the dozen Mopeds in his collection.  He's the Commander of the Pharoahs Car Club - Gettysburg.